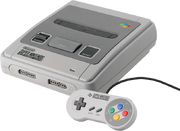 The Super Nintendo Entertainment System, commonly abbreviated as SNES and known as the Super Famicom in Japan, was the game console on which Earthbound was released.
Trivia
In MOTHER 2 for the Super Famicom, when Ness picks up the map from the librarian in Onett, the librarian tells him that the X Button on the Super Famicom is the blue button. This was left out in EarthBound for the SNES, as the American SNES does not have color-coded buttons.
Community content is available under
CC-BY-SA
unless otherwise noted.